How Hand Painted Signs Help Your Business Stand Out
As recently as the 1980s, it was impossible to walk down any main retail precinct without seeing hand painted signs of some type. Storefronts, billboards, murals, banners, and even street signs were hand-lettered with brushes and paint, relying entirely on the skill of the painter to make them readable and eye-catching.
Since those days technology has come a long way in the signwriting industry replacing simple hand tools with materials of the twenty-first century. This has paved the way for illuminated signage and a variety of vinyl signs that are high impact and very effective for business advertising. While we all enjoy the amazing impact technology has had on the capabilities of the signage industry, you might also find that technology is not always the best fit. In a highly competitive market space with a variety of marketing avenues, it is important that your business makes an impression, shows off its personality and stands out and a great way to do that is with a professional hand painted sign.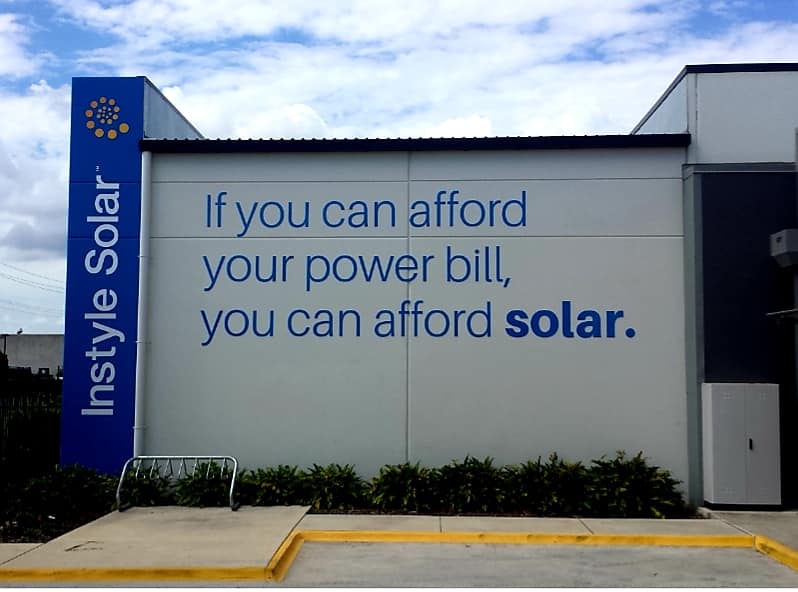 Jump to:
WHAT ARE TRADITIONAL HAND PAINTED SIGNS?
ARE HAND PAINTED SIGNS MAKING A COME BACK?
WHY CHOOSE HAND PAINTED SIGNS?
THE BENEFITS OF HAND PAINTED SIGNS FOR BUSINESS
WHY THEY WORK
WHAT SURFACES CAN BE PAINTED?
NORTH LAKES HAND PAINTED SIGNS
WHAT ARE TRADITIONAL HAND PAINTED SIGNS?
Traditional hand painted signs or signwriting is freehand lettering of words and symbols with a brush and paint. It is an art and the skill of design and layout. In hand painting, planning and spacing are key as is:
the knowledge of a variety of fonts
making patterns
prepping boards
mixing paint
using shadows
outlines
highlights
borders
centering and balance
Traditionally, hand painted signs often announced a place's identity or a person's ownership of a business and were used as promotional tools. There is a rich heritage for the traditional craft of hand painted signs and the use of signs has been around since ancient times, which is a very long history in the realm of artisan crafts.
In this day and age, everyone uses signs even more so than before and for a vast variety of reasons, however, the trade skill of hand painting signs has all but disappeared in the last 30 years due to modern technology. Sign painters over time have become a dying breed and their talent pool diminished. It is getting harder and harder to find people that know how to paint signs. There was a time not long ago when the talents and skills of a hand-letterer were considered as important and honourable as those of any trade skill. The services of a good sign painter were always in demand.
ARE HAND PAINTED SIGNS MAKING A COME BACK?
Like many things in the world, old things become new, trendy and valued again, much like hand painted signs. Because of a number of reasons, including a renewed interest in craft and handmade work, retailers and business owners are starting to increasingly turn to sign painters to convey a sense of individuality, to stand out and communicate that their products are unique.
Shopkeepers and businesses are also more aware of the possibility of having something hand painted. It has also helped that the general public are starting to understand and appreciate the art and craft of hand painted signs and other community projects like street art and silo art which we have seen make a big impact over the past few years. There is once again starting to be a greater demand for these rare skills
WHY CHOOSE HAND PAINTED SIGNS?
Traditional signwriting is a highly demanding skill that is resurfacing into modern day business branding and advertisement because it is permanent, easy to touch up and makes a real statement for your business brand. It's also a classic and stylish way to give your business or home a real feeling of individuality and character.
If you are looking for signage that lasts, you can't beat traditional hand painted signs.
Painted signage can last 10 years or more and is very versatile for any medium, metal, wood, glass, plastic, and concrete. There are often no constraints by printer paper sizes, so hand painted signs can be as large as you like, and almost any shape that you choose. Each sign is its own unique work of art with a greater degree of shading, lighting, texture, and depth. For these reasons you can't beat the look of a hand painted sign.
Hand-painted lettering and decoration suits many applications where modern, computer-generated lettering and graphics are not appropriate. The painted graphics are fantastic for outside of buildings and internal office walls or feature walls in homes.
For business, nothing can connect you with customers like a unique design hand painted on a storefront. A hand painted sign can really establish aesthetics, brand, and a company's mission.
Reasons to choose a hand painted sign include:
Seamless finishes – Painted signs are a fantastic option for a seamless finish on textured surfaces.
Permanent– Painted signage offers a 'permanent' signage fixture that can't be easily stolen or vandalised.
Longevity– Hand painted signs offer a long lasting finish that ages tastefully and can be easily 'touched up'.
Stand out– Eye catching and attention demanding finishes including matt, satin, gloss, metallic and gold leaf.
Protect surfaces– Offers surface sealing and protection.
THE BENEFITS OF HAND PAINTED SIGNS FOR BUSINESS
Signage has a great influence on how your business is perceived. Traditional hand painted signs are still very effective methods to get your name out there and make you stand out with an individual design that helps customers identify with that business. Some of the benefits include:
Brand – Your brand really starts with your personal style. A hand painted sign on your storefront or business' door, displaying your logo, with the greatest attention to details, is going to put who you are in the heads of customers immediately. There isn't a better way to show off than with a high quality hand painted sign.
Appearance – Whilst mainly completed on extremely large shop-fronts, a hand-painted sign often has a better look than a manufactured sign. Fluorescent hand-painted signs are extremely effective at catching the eyes, especially when big sales are being held or when discount prices are being advertised. Murals and feature walls are also common on the outside of buildings and internal office and residential spaces.
Permanent – While technology does play an invaluable role in the signage industry, the simple tools of a hand painted sign almost make the possibilities limitless to where and what can be created. And while vinyl signage often has a feeling of temporariness, by comparison, a hand painted sign hand suggests a much more permanent state and in business that might be perceived as intent to hang around for more than a few years.
Indoor/Outdoor – Hand painted signs work indoors as well as outdoors. Using the very best paint for Queensland conditions gives hand painted signs a high quality finish that is weather resistant.
WHY THEY WORK
Seeing the same lettering, the same colour schemes, the same type of signs everywhere we go has made us immune to the sad fact that uniformity has taken over our cities. This is never more apparent than when we walk by a shop with carefully hand-painted signs. It, almost without fail, will seem like the coolest and most interesting shop on the street, even before we walk through the door. Why? Because that store owner took pride in his or her business and chose to display the individuality that other shops are missing.
Hand painted signs work because they are:
Long-lasting
Durable
Stand out
A work of art
Unique
No constraints on size or shape
Can be applied to a variety of surfaces
Make an impression
Give the power of individuality
WHAT SURFACES CAN BE PAINTED?
One of the main advantages of hand painted signs is that there aren't many restrictions when it comes to sign placement. The painted graphics are fantastic for outside of buildings, internal office walls or feature walls in homes. Hand painted signs can be used on:
Outside Building Walls
Concrete Walls
Brick Wall Signage
Timber Walls
Glass Window
Concrete Parking Signs
Feature Walls
Interior Walls
Office Foyers
Building Roofs
NORTH LAKES HAND PAINTED SIGNS
While the signage industry has witnessed an evolution in more recent times, traditional hand painted signs are still relevant and are actually very popular for businesses which need that authentic look. Hand painted signs help give a brand a personalised touch and help businesses to stand out in the crowd.
At North Lakes Signs, we have been delivering the Brisbane community with hand painted signs and modern signage solutions for over 30 years. We use the very best paint for Queensland conditions that will ensure that your hand painted signage will last 10 years or more.
Our decades of experience in the signwriting industry means that our skills and techniques are very versatile and can be applied to almost any medium. North Lakes Signs can help your next sign make an impression and ensure you stand out. We can create hand painted signage on:
Internal/External feature walls
Roofs
Windows
Building wall or any concrete wall
Walls
Timber walls
Concrete parking signs
Office interior/foyers
We're passionate and professional signwriters with extensive knowledge of the industry that will ensure that you are provided with the very best signage solutions Brisbane has to offer. Contact us to find out more.