Ultimate Guide for Boat Motor Wrap
Boat motor wraps involve wrapping boats in a self-adhesive film which is a proven, durable and economical alternative to painting or repainting your boat. Vinyl films can be applied to metal, fiberglass/gelcoat, paint and prepared timber surfaces. Using boat motor wraps is quick and easy to apply. It will cost less per square metre than paint and will look good for many years after if it is properly applied and maintained.
Types of Wraps for Motorboats
If you are looking to add some style while you are out on the water, then a boat motor wrap is the way to do it. From vinyl stickers to a full coverage boat motor wrap you can easily customise and add a touch of flare to your boat. Here are some ideas as to how you might use boat motor wraps to enhance the look of your boat.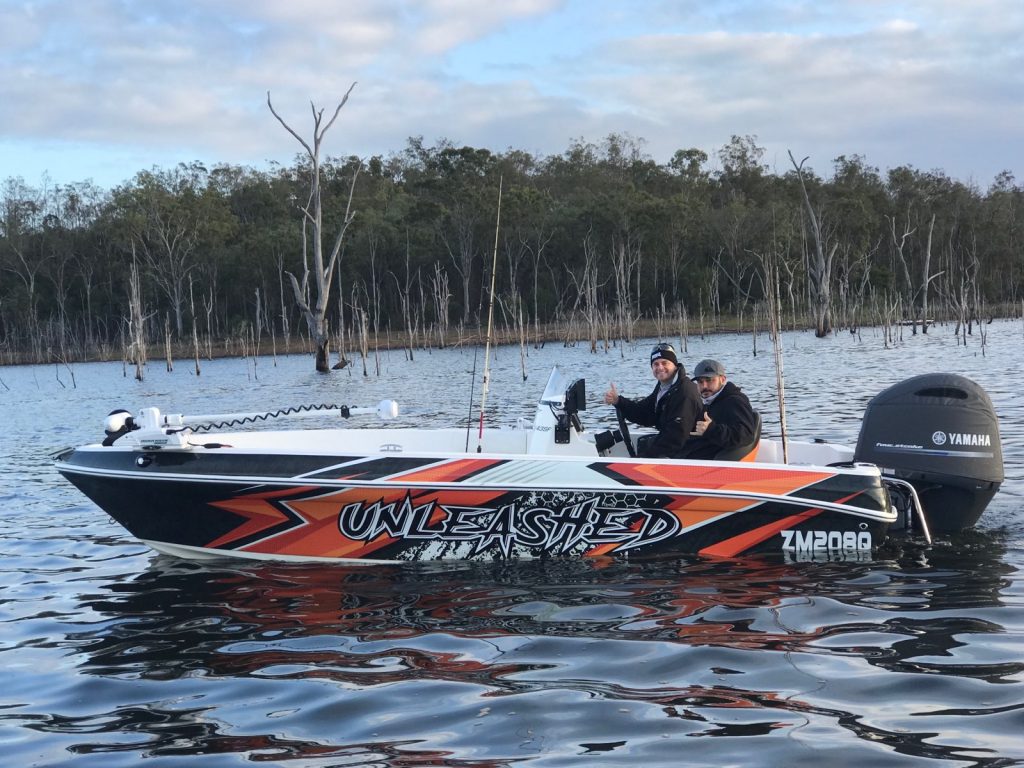 This boat has been coated in System X Ceramic Protection
Boat rego stickers
Boat names
Cut out letters
Full vinyl wraps
Full colour change
Boat motor decals refurbish
Business branding for boats
Fishing tournament branding
What are Outboard Motor Wraps?
Boat motor wraps allow you to protect and customise your boat's outboard motor. This can be more cost effective than painting the motor and can add custom graphics that can improve the look of your boat and bring it back to life again.
What is Marine Vinyl Wrap?
Marine vinyl boat wraps protect fiberglass from ultraviolet light-affected fading and scratches, while being easier and less expensive to repair than paint. Wrapping gets the boat back in the water quicker. The big advantage of boat motor wrapping a hull is that the costs are significantly lower than the costs of paint and labour, compared to just a few hours of labour required for boat motor wrapping.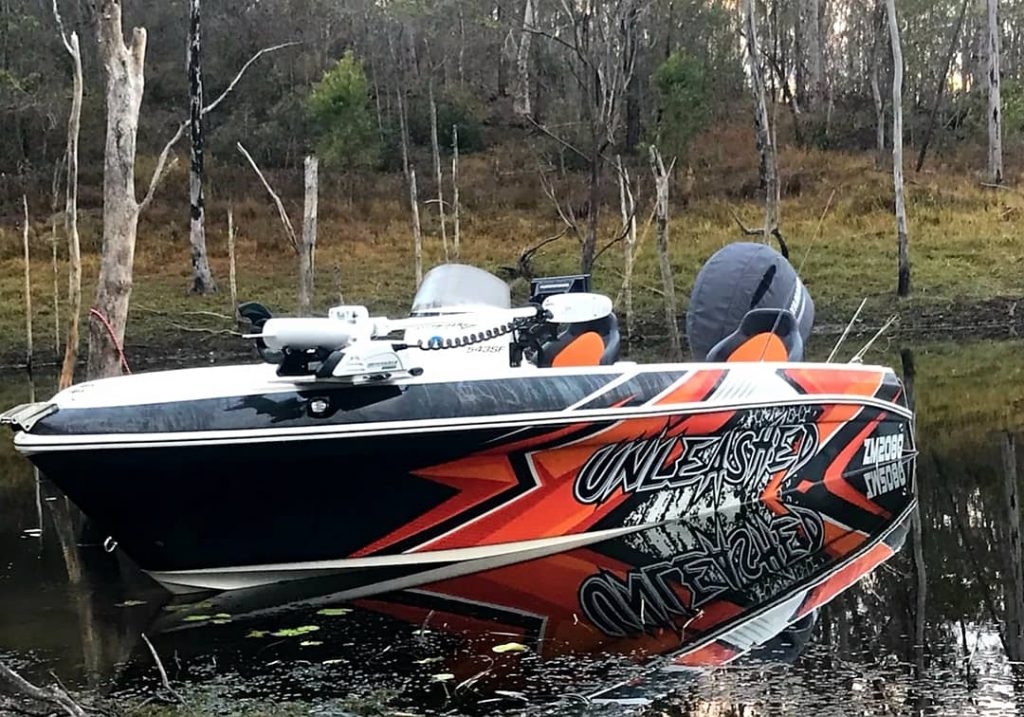 If you require painting, logos or intricate graphics on the hull of your boat this can be costly. But it is much easier to have a graphic designer create this on a computer and then printed on vinyl before being finished as your own customised boat motor wrap.
What Marine Paints are Used to Protect Boats?
There are a variety of paints that may be required to protect the different parts of a boat. Which marine paints you decide to use will depend mainly on which part of the boat you are aiming to protect and which environment that part of the boat is exposed to. The different types of marine paint include:
Antifouling Paints – Antifouling paints are used to protect your boat from biofouling agents such as barnacles, weeds, and slime which will build up on your hull over time.
Topcoat Paint – This paint is used as an additional layer on the hull, deck, interior and bilge to deliver durable, safe solutions that will stand the test of time. This includes durability in extreme weather, gloss retention and UV resistance.
Varnishes – This is designed to protect timber/wood against moisture, alcohol spills, detergents and other harsh elements. This tough, flexible and long-lasting coating also expands and contracts with changing weather conditions.
Primers – Primers are the first complete coat of paint used which helps seal and protect bare surfaces above and below the waterline. It is used to fill imperfections and form a smooth layer for the additional coats of paint that are later added to the surface.
How Much Does it Cost to Wrap a Motorboat?
Vinyl wraps have become increasingly popular as an alternative to repainting motorboats for several practical and cost-effective reasons. Firstly, there is significantly less upfront cost with the application of a boat motor wrap than there is with the cost of painting a boat. The costs are often less than half of the cost when using boat motor wraps.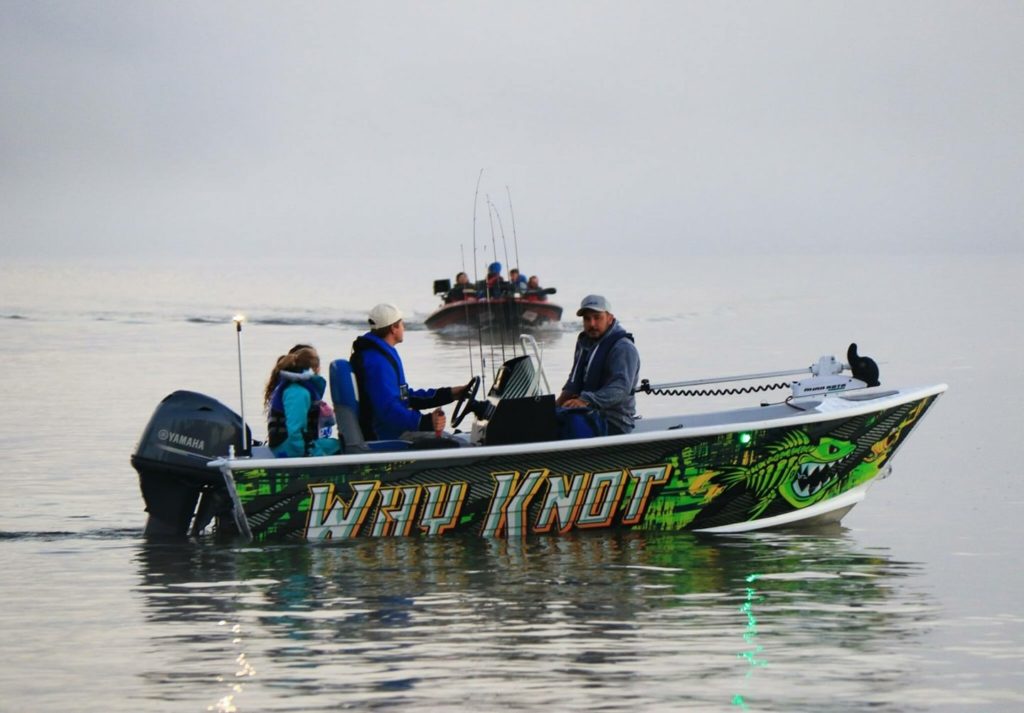 Another big advantage is that the application of boat motor wraps is much faster than painting which means the boat is out of the water and in service for a lot less time. In addition to this boat motor wraps are virtually maintenance free, saving you the cost of time in the future also.
Boat motor wraps can be a great way to change the entire look and feel of your boat without the hassle, time, and costs of a repaint. They are also extremely customisable and allow you to create a look to your boat that is totally unique to you. A new boat motor wrap gives your boat a clean and sleek look that turns heads as well as protecting your gelcoat and paint from the elements.
The cost of a boat motor wrap starts at about $1,400 for a 14-foot boat. The cost will increase depending on boat size, boat type, wrap size, and the level of detail in the wrap. However, it is still only the fraction of the time and money it will cost you to repaint. This makes it a much more appealing option for older boats that might need a facelift or where your boat just needs some graphics added.